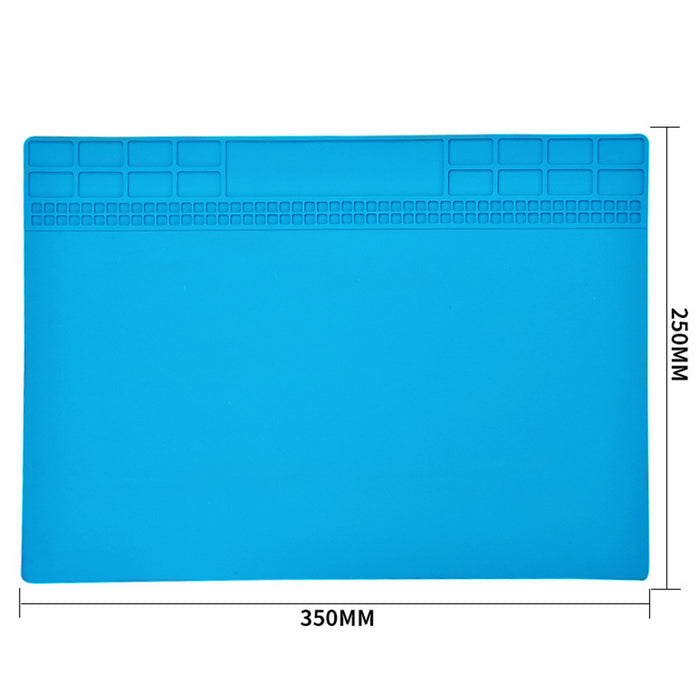 Yankok Anti-Static Mat Blue 35 x 25 cm Table Desk ESD Grounding Solder Pad (13.8 x 9.8 in. Heat Resistant, Non Magnetic)
Save

Liquid error (snippets/product-badge line 32): Computation results in '-Infinity'

%
Size and Thickness – This anti-static mats come in size of 35 x 25 x 0.2 cm / 13.8 x 9.8 x 0.08 inch to accommodate different work areas and preferences. This mat provides additional cushioning for delicate components.
Work Surface - These mats provide a safe work surface where electronic components and devices can be placed during assembly, repair, testing, or maintenance activities. This mat is made from a conductive material vinyl to create a path for static charge dissipation.
ESD Protection - Anti-static mats protect sensitive electronic components, such as integrated circuits, microchips, and PCBs, from potential ESD damage, which could cause malfunctions or render the devices unusable.
Grounding - To be effective, anti-static mats must be grounded. They come with a grounding point or a snap that allows them to be connected to a grounding system, which discharges any accumulated static charge safely.
Usage Precautions - While anti-static mats provide valuable protection, it's essential to continue implementing other ESD control measures, such as wearing anti-static wrist straps, using grounded workbenches, and using proper ESD-safe handling techniques.
MPN:
YKNT-ASM-35X25B

ASIN:
B0CDRMVBXX

What's in the Package?
1x Anti-Static Mat Blue (35x25cm / 13.8x9.8in.)

About Shipping:
International Shipment: Item will be shipped from China warehouse by International Shipping with 8-15 days of delivery in normal conditions. Shipping time and date varies on the distance of different countries, extra shipping fee might be charged for remote area and sometimes the time will be 10-20 days of delivery.

Retail Bulk Discount:
MOQ of 2 get 3.00% off $12.60
MOQ of 3 get 5.00% off $12.34
MOQ of 4 get 7.00% off $12.08
MOQ of 5 get 10.00% off $11.69
NOTE: Get 10% OFF for your first order with code YANKOK10

Wholesale Volume Pricing:
We accept business orders as well, contact us for FOB pricing and shipping details if you have MOQ more than 5 pcs.

Specifications:
Resistivity: 10^6 - 10^8 ohms
High-temperature resistance coefficient : 932°F, (500℃)
Dimension Size: 35cm (L) x 25cm (W) / 13.8'' (L) x 9.8'' (W)
Thickness: 0.20 cm / 0.08 inch
Color: Blue
Material: Food grade anti-static silicone

Features:
Dissipate static electricity safely and quickly to prevent static charge build-up on electronic components.
Provide a comfortable and non-slippery working area for technicians and assembly personnel.
Provide an ESD safe working environment, protecting sensitive electronic devices from potential damage caused by electrostatic discharge.
Used on various surfaces, including workbenches, assembly tables, and even floors, offering flexibility in creating ESD-safe workspaces.
Resistant to wear, tear, and common workplace chemicals to ensure a long-lasting and reliable performance.
Easy to clean and maintain, allowing for efficient removal of dust and dirt without compromising their anti-static properties.
Manufactured using environmentally friendly materials and processes to reduce their impact on the environment.

About Yankok®:
Yankok® offers a comprehensive line of VDV products created to prep, connect, and test network, phone, CATV, home theater, satellite, and security cables for residential or commercial systems.
Yankok® has manufactured premium-quality, professional-grade hand tools that deliver the performance, durability and precision needed to get the job done right.
We only use the high quality materials, superior workmanship, and keeping manufacturing as close to home as we can and make great products that stand up to the demands of the professionals who use them every day.

Our item on Amazon.com:
www.amazon.com/dp/B0CDRMVBXX