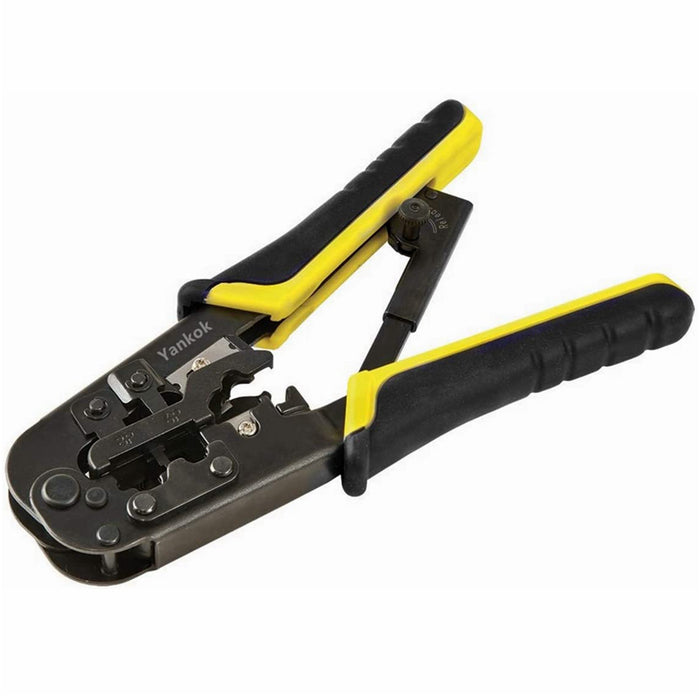 Yankok RJ45 RJ12 RJ11 Modular Crimper Strip / Cut / Crimp Tool N5684R Black
✅All-in-one Modular Crimper – Fast, reliable modular-crimp connector installation for voice and data applications. Crimps RJ45 Cat 3/4/5/5e/6 (8x8) (8P8C), RJ12 6-position (6x6) (6P6C), RJ11 4-position (6x4) (6P4C) and RJ11 2-position (6x2) (6P2C). NOTE: NOT for use on AMP/TYCO style plugs and does NOT crimp EZ-RJ45 (pass thru connectors).
✅Built-in Cable Stripper Cutter – SK5 blade ensures its quality, come with replacement blade set. Strips and cuts Ethernet cables, paired-conductor cables (RJ11, RJ12, RJ22, RJ45), Twisted Pair, voice and data cables, no need to buy a cutter or stripper separately, with a blade-guard on cutting and stripping knives reduce risk of injury.
✅Full-cycle Ratchet Mechanism – Ratcheting prevents the release of the connector prior to full compression, also, it makes the release easy and get back to ready position with a simple press after successfully crimp the modular plug connector, helps you save time and effort. After use, you can conveniently store it due to its ratchet locking feature.
✅High-carbon Steel Construction – Crimping dies are precision ground from high-carbon steel, steel body with black-oxide finish for excellent performance and durability. Ergonomic grips enhance comfort, visibility, and allow quick identification. Makes sure that you have a comfortable and robust carry of the tool.
🎁What's in the Package? – Package includes 1x RJ45 RJ12 RJ11 Modular Crimper, 1x Blade Set and 3x Network Connectors. Due to multiple functionalities and budget-friendly price, compatible with almost all kinds of network cables & connectors, all together make this all-in-on network tool a top-ranked choice today.
MPN:
YKNT-MDC-N5684R (BK)

What's in the Package?
1x RJ45 RJ12 RJ11 Modular Crimper
1x Blade Set
3x Network Connectors for Test

About Shipping:
International Shipment Only: Item will be shipped from China warehouse by International Shipping with 10-20 days of delivery (Shipping time and date varies on the distance of different countries, extra shipping fee might be charged for remote area).

Bulk Discount:
MOQ of 2 get 3% off $12.34
MOQ of 3 get 5% off $12.08
MOQ of 4 get 7% off $11.69
MOQ of 5 get 10% off $11.43

Volume Pricing:
We accept both retail and wholesale orders, contact us for bulk discounts and shipping details if you have MOQ more than 5 set.

NOTE:
This crimper does NOT for use on AMP/TYCO style plugs and does NOT crimp EZ-RJ45 (pass through connectors).

Materials:
Blade Material: SK5
Handle Material: PVC dip process

Features:
All-in-one tool cuts, strips and crimps paired-conductor cables. (RJ11/RJ12, RJ22, RJ45), Twisted Pair, Ethernet, RJ45 voice and data cables.
Full-cycle ratchet mechanism prevents the release of the connector prior to full compression.
Ratcheting safety-release and a blade-guard on cutting and stripping knives reduce risk of injury.
Crimping dies are precision ground from high-carbon steel. Fast, reliable crimp tool with steel body for durability.
Ergonomic comfort grips enhance comfort, visibility, and allow quick identification.

About Yankok®:
Yankok® offers a comprehensive line of VDV products created to prep, connect, and test network, phone, CATV, home theater, satellite, and security cables for residential or commercial systems.
Yankok® has manufactured premium-quality, professional-grade hand tools that deliver the performance, durability and precision needed to get the job done right.
We only use the high quality materials, superior workmanship, and keeping manufacturing as close to home as we can and make great products that stand up to the demands of the professionals who use them every day.

Item link to our Amazon Store Base on United States:
www.amazon.com/dp/B081XQKQ88