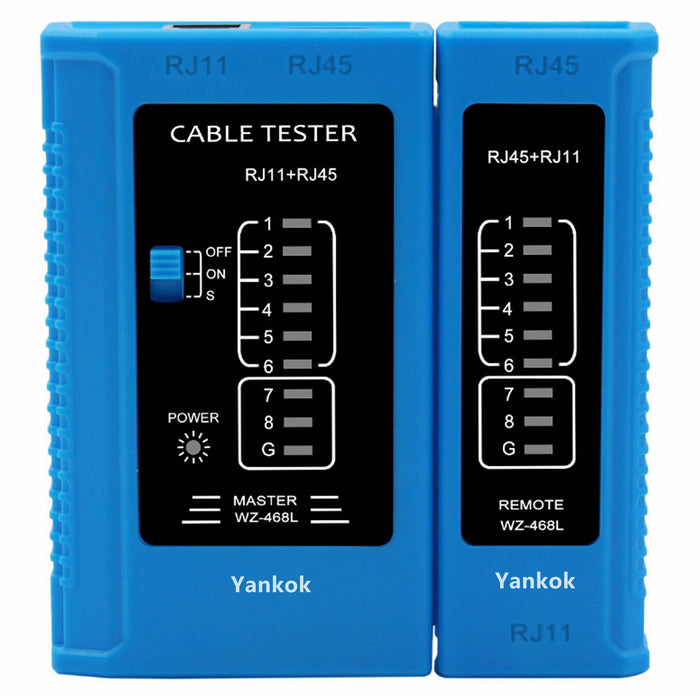 Yankok RJ45 RJ12 RJ11 Network Cable Tester WZ-468L Blue (w/o Battery)
Save

Liquid error (snippets/product-badge line 32): Computation results in '-Infinity'

%
✅Network Cable Tester - The WZ-468L network cable tester is designed to test and troubleshoot various types of network cables, including RJ45, RJ11 ends, to make sure they are in working order prior to connecting to your devices.
✅Automatic Detection - The tester can perform wire mapping, cable length measurement, continuity testing, and polarity checking, among other functions. Automatically runs all tests and checks, with LED lights and micro-power supply interface.
✅LCD Display - It features a large LCD display that shows test results and can be backlit for easy reading in low-light conditions. Extremely easy to operate as it comes with all user-friendly features. Main Tester: 1-2-3-4-5-6-7-8-G. Remote Tester: 1-2-3-4-5-6-7-8-G (RJ45), 1-2-3-4 -- (RJ11).
✅Compact and Efficient - The tester can detect and locate cable faults, such as open circuits, short circuits, and reversed connections, and can also measure the distance to the fault. With a compact and durable design that makes it easy to carry and use in various environments, such as offices, data centers, and construction sites.
🎁What's in the Package - Package comes with 1x Network Cable Tester, 1x user manual and 1x carrying pouch. Battery use 6F22 9V 25MA (NOT INCLUDED). The tester has a detachable section making it perfect for testing cable runs in different locations.
MPN:
YKNT-NCT-WZ468BU

What's in the Package?
1x RJ45 RJ12 RJ11 Network Cable Tester

About Shipping:
International Order: Item will be shipped from China warehouse by International Shipping with 8-15 days of delivery in normal conditions. Shipping time and date varies on the distance of different countries, extra shipping fee might be charged for remote area and sometimes the time will be 10-20 days of delivery.

Bulk Discount:
MOQ of 2 get 3.00% off $9.69
MOQ of 3 get 5.00% off $9.49
MOQ of 4 get 7.00% off $9.29
MOQ of 5 get 10.00% off $8.99

Volume Pricing:
We accept both retail and wholesale orders, contact us for bulk discounts and shipping details if you have MOQ more than 5 set.

Hot it works?
LED display with power switch, ON for a normal speed test, S for a quick test, OFF for a power off.
Twisted pair testing from 1-8 wires and ground (G), identifies continuity problems such as shorts, open wires, reversed pairs, crossed pairs and miswiring.

How to use?
Turn on the tester and make sure that your cables are fully plugged in before you proceed to the test.
Then plug the network cables (RJ45/RJ11) into the appropriate port on the cable tester, and then connect the other end of the cable to the remote.

Normal Condition:
Normally lights on the main tester will go from 1 to G as below:
Main: 1-2-3-4-5-6-7-8-G
Remote: 1-2-3-4-5-6-7-8-G (RJ45). 1-2-3-4------(RJ11)

Read the problem:
When it comes a short or open wiring (such as the third wire shorts), the third LED on the main and remote tester will not light.
If the tester concludes that reversed or crossed pairs (such as 2 / 4 reversed or crossed). The main tester will remain in normal condition (1-2-3-4-5-6-7-8-G), but remote tester will display as (1-4-3-2-5-6-7-8-G).
If the tester concludes that this is not the case and that something has gone wrong (such as miswiring), you will find that the tester displays no lights on.

About Yankok®:
Yankok® offers a comprehensive line of VDV products created to prep, connect, and test network, phone, CATV, home theater, satellite, and security cables for residential or commercial systems.
Yankok® has manufactured premium-quality, professional-grade hand tools that deliver the performance, durability and precision needed to get the job done right.
We only use the high quality materials, superior workmanship, and keeping manufacturing as close to home as we can and make great products that stand up to the demands of the professionals who use them every day.

Item link to our Amazon Store Base on United States:
www.amazon.com/dp/B0BYSV6G6L