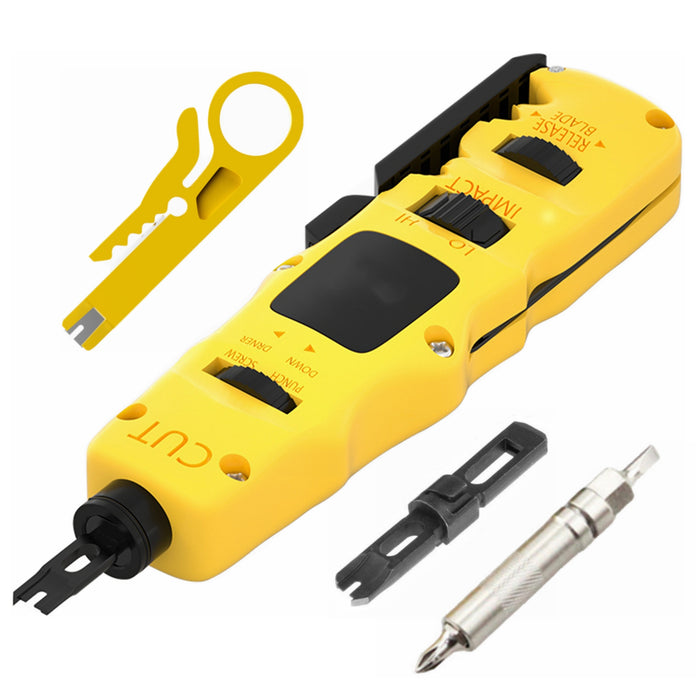 Yankok 374AP Impact Punch Down Tool with 110/88 110/66 Blades and Removable Double Ended Screwdriver
Cuts, strips, inserts and terminates cable in variety of cross-connect patch panels, blocks and keystone jacks in one simple operation with built-in cable stripper, hook and spudger into the handle.
Come with interchangeable and reversible 110/88 and 110/66 blades and removable double ended screwdriver. Rubber finger grips and boot provide greater control and enhanced comfort.
Spring loaded for fast, low effort seating and terminating. Selectable (Hi/Low) impact-force setting meet industry standard specifications.
Blade storage compartment with spring loaded locking mechanism. Bayonet style (twist and lock) socket accepts most manufacturers' tools and blades.
Package includes 1x 374AP Impact Punch Down Tool, 1x 110/88 Combination Blade, 1x 110/66 Combination Blade, 1x Removable Double Ended Screwdriver and 1x Basic Cable Stripper with Punch Down Function.
MPN:
YKNT-PDT-374AP

ASIN:
B08975MW2M

What's in the Package?
1x 374AP Impact Punch Down Tool
1x 110/88 Combination Blade
1x 110/66 Combination Blade
1x Removable Double Ended Screwdriver
1x Basic Cable Stripper with Punch Down Functions

About Shipping:
United States: Item will be shipped from US warehouse by Standard Shipping with 5-7 days. If the item out of stock from the US, item will be shipped from China and we will send you a confirm notification before send out the parcel.
Global Countries: Item will be shipped from China warehouse by International Shipping with 8-15 days of delivery in normal conditions. Shipping time and date varies on the distance of different countries, extra shipping fee might be charged for remote area and sometimes the time will be 10-20 days of delivery.

Retail Bulk Discount:
MOQ of 2 get 3.00% off $32.97
MOQ of 3 get 5.00% off $32.29
MOQ of 4 get 7.00% off $31.61
MOQ of 5 get 10.00% off $30.59
NOTE: Get 10% OFF for your first order with code YANKOK10

Wholesale Volume Pricing:
We accept business orders as well, contact us for FOB pricing and shipping details if you have MOQ more than 5 pcs.

Features:
Automatic spring handle - choose low impact for 24/26 gauge wire or high impact for 22-gauge wire.
Adapter blade allows technician to use a variety of torque tool bits and sockets.
Inserts and cuts terminations in one simple operation.
Includes built-in cable cutter and stripper.
Includes swing-out combination hook and spudger.
Convenient blade storage built into the handle.
Precision blades and screwdriver are interchangeable and reversible.
Easy to handle comfortable grip.

About Yankok®:
Yankok® offers a comprehensive line of VDV products created to prep, connect, and test network, phone, CATV, home theater, satellite, and security cables for residential or commercial systems.
Yankok® has manufactured premium-quality, professional-grade hand tools that deliver the performance, durability and precision needed to get the job done right.
We only use the high quality materials, superior workmanship, and keeping manufacturing as close to home as we can and make great products that stand up to the demands of the professionals who use them every day.

Our item on Amazon.com:
www.amazon.com/dp/B08975MW2M