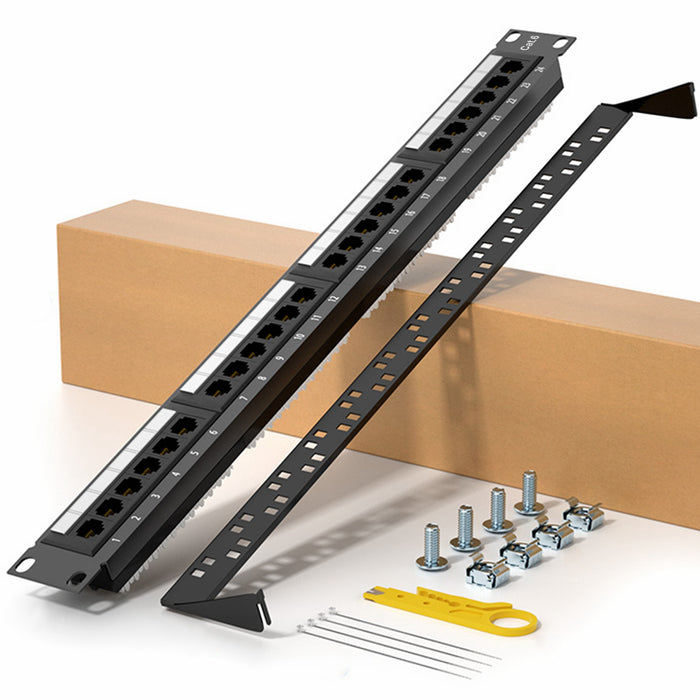 Yankok CAT6 24 Port Patch Panel with Bracket Unshielded 19in.x1U Rack/Wall Mount
✅Standard Cat6 24-Port Patch Panel – Come with mounting bracket and supports back Cat5 Cat5e Ethernet, unshielded (UTP) 22 to 26 AWG solid or stranded cables with 180 degrees oriented RJ45 jacks. Standard 19in.x1U(1.75in.) footprint provides more rooms for network connection.
✅Cat6 Gigabit Ethernet - Reach identical performance to a 19 inches rack sized 24 Gig network patch panel with a long form factor, meets or exceeds ISO/IEC11801 and TIA/EIA568 standards. Dual IDC termination blocks hold the cable in a star configuration for better pair isolation and accommodate 110 or Krone impact tools.
✅Standard Compliance with Fluke Tested - Professional structured cabling solution in a home or small office network. Pre-wire up to 24 locations and then plug & play with standard RJ45 patch cables for connecting a LAN, video and audio streaming, IP camera surveillance and more; Label spaces on the front provide writeable areas for easy identification and a professional looking installation.
✅Heavy Duty Construction - Built with a black-painted steel panel and gold-plated RJ45 contacts ensure a correction free connection. Numbered ports and color-coded T568A and T568B wiring diagram give quick reference (Supports both T568A and T568B wiring standards).
🎁What's in the Package? - Eco-friendly item box includes 1x 24-Port Cat6 Patch Panel with Mounting Bracket, 1x Mini Punch Down Tool, 4x Cable Ties, 4x Mount Screws. UL listed and feature a 110 type punch down termination, will maximize your network performance and keep up with the greatest of upgrade in your network.
MPN:
YKNT-PAP24-CAT6B

What's in the Package?
1x 24 Port Cat6 Patch Panel
1x Mounting Bracket
1x Mini Cable Stripper Cutter
4x Cable Ties
4x Mount Screws

About Shipping:
United States: Item will be shipped from local warehouse by Standard Shipping with 5-7 days. If the item out of stock from the local, order will be shipped from China and we will send you a confirm notification before send out the parcel.
International Order: Item will be shipped from China warehouse by International Shipping with 8-15 days of delivery in normal conditions. Shipping time and date varies on the distance of different countries, extra shipping fee might be charged for remote area and sometimes the time will be 10-20 days of delivery.

Bulk Discount:
Minimum quantity of 2 get 3.00% off $40.73
Minimum quantity of 3 get 5.00% off $39.89
Minimum quantity of 4 get 7.00% off $39.05
Minimum quantity of 5 get 10.00% off $37.79

Volume Pricing:
We accept both retail and wholesale orders, contact us for bulk discounts and shipping details if you have MOQ more than 10 set.

Specifications:
Port: 24 ports Cat.6
Height: 1U=44.5mm / 1.75in.
Length: 19inch=480mm
Size: 480*70*44.5mm / 19*2.76*1.75 inches
110 style punch down
568-A/B Wiring Code
Supports back Cat.5/5e
UL Listed
Meets or exceeds TIA/EIA 568-A and 568-B standard

Features:
1U 19inch unshielded, 180-degree cable entry.
Patch panels come pre-configured 110-style punch downs on the rear side and 24-port RJ-45 front modules.
24 Port CAT6 Patch Panels from Yankok® will maximize your network performance and keep up with even the greatest changes of speed in your network.
Made from black electrostatic powder-coated steel these patch panels can stand up to even the most extreme conditions.
With the built-in cable management and a clear wiring guide on the reverse side of the patch panel will make sure you never second guess if punch down the patch panel correctly.
Yankok® CAT6 patch panels are rated up to 250Mbps and meet or exceed the TIA/EIA 568-B.2 industry specifications.
All Yankok® patch panels are UL Listed, feature a 110 type punch down termination.

About Yankok®:
Yankok® offers a comprehensive line of VDV products created to prep, connect, and test network, phone, CATV, home theater, satellite, and security cables for residential or commercial systems.
Yankok® has manufactured premium-quality, professional-grade hand tools that deliver the performance, durability and precision needed to get the job done right.
We only use the high quality materials, superior workmanship, and keeping manufacturing as close to home as we can and make great products that stand up to the demands of the professionals who use them every day.
For every tool, item box and shipping package should be a Yankok® logo mark on it for genuine certification.

Item link to our Amazon Store Base on United States:
www.amazon.com/dp/B0BY23WLCC