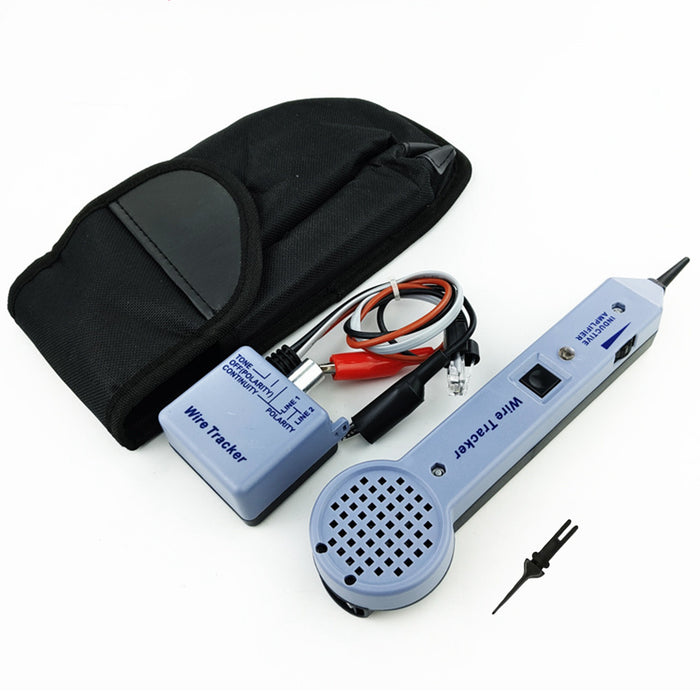 Yankok 200EP Tone Probe w/ 701K Generator Kit Progressive Inductive Amplifier Wire Cable Tracer
🎁Package includes 1x 200EP Tone Probe, 1x 701K Generator, 1x Headset Jack and 1X User Manual. This Tone Probe and Generator tracer kit is used primarily by electricians, construction workers and telecommunications engineers to detect hidden wires, identify and trace electrical wires or cables without damaging insulation.
✅The 200EP Progressive Inductive Amplifier can be used in conjunction with any tone generator. Inductive Amplifiers permit wire and cable identification without having to make direct metallic contact with the conductor.
✅The 200EP features a powerful speaker for noisy environments, recessed on/off button control and high gain for accurate wire identification in congested cable bundles and equipment rooms. Includes a headset jack (audio shock protected) and a LED Flashlight for working safely behind furniture, inside racks or in dim lighting conditions.
✅The 701K Tone Generator (ABN clips) permits technicians to identify the conductor within a bundle, at a cross-connect point or at the remote end. It can be used on twisted pair wiring (telecom, datacom, etc.), single conductors, coaxial cables, de-energized AC wiring and most other wiring.
✅This kit help you check for short circuits and open circuits. Designed for use with telephone lines, alarm cables, computer cables, intercom lines, speaker wires, and thermostat wiring. Simple operation with audible and visual tone signal indication, provides two distinct tone signatures and LED tone proximity indicator illumination.
MPN:
YNKT-TPG-2EP71K

ASIN:
B0CCP7Z17V

What's in the Package?
1x 200EP Tone Probe Amplifier
1x 701K High Power Tone Generator (77HP)
1x Headset Jack
1x Carrying Case
1X User Manual

About Shipping:
United States: Item will be shipped from US warehouse by Standard Shipping with 5-7 days. If the item out of stock from the US, item will be shipped from China and we will send you a confirm notification before send out the parcel.
Other Countries: Item will be shipped from China warehouse by International Shipping with 8-15 days of delivery in normal conditions. Shipping time and date varies on the distance of different countries, extra shipping fee might be charged for remote area and sometimes the time will be 10-20 days of delivery.

Retail Bulk Discount:
MOQ of 2 get 3.00% off $44.61
MOQ of 3 get 5.00% off $43.69
MOQ of 4 get 7.00% off $42.77
MOQ of 5 get 10.00% off $41.39
NOTE: Get 10% OFF for your first order with code YANKOK10

Business Volume Pricing:
We accept wholesale orders as well, contact us for FOB pricing and shipping details if you have MOQ more than 5 set.

Specifications:
Gain (nominal): 30 dB
Input Impedance (nominal): 100 M
Probe Tip Resistance (min): Metal Tip: 0 / Plastic Tip: 300
Headset: 3.5 mm stereo plug; 8 ohms minimum
Battery: One 9 VDC (NEDA 1604, JIS 006P, or IEC 6LR61)
Battery Life (nominal): 50 hours
Operating/Storage Conditions Temperature: 0 °C to 50 °C (32 °F to 122 °F)

Features:
Resistive plastic carbon-fiber tip to prevent accidental shorts when probing wires.
Adjustable volume sensitivity control.
Recessed terminal ports for handset connection.
Spring-loaded ON/OFF LED flashlight button.
Continuity and Polarity Testing (LED & Beeper with Selectable Warble Tone).
Two-line Modular Test Lead (RJ-11 with RJ11 & RJ45 socket).
Three-Color LED (Identifies AC ring voltage).
Weather-Resistant Design.
Bent Nose Clips with Bed-of-Nails Penetrator.
Battery compartment for battery operated (9V not included).
Does not require actual physical contact with an electrical object, such as a wire under voltage.

About Yankok®:
Yankok® offers a comprehensive line of VDV products created to prep, connect, and test network, phone, CATV, home theater, satellite, and security cables for residential or commercial systems.
Yankok® has manufactured premium-quality, professional-grade hand tools that deliver the performance, durability and precision needed to get the job done right.
We only use the high quality materials, superior workmanship, and keeping manufacturing as close to home as we can and make great products that stand up to the demands of the professionals who use them every day.

Item link to our Amazon Store Base on United States:
www.amazon.com/dp/B0CCP7Z17V