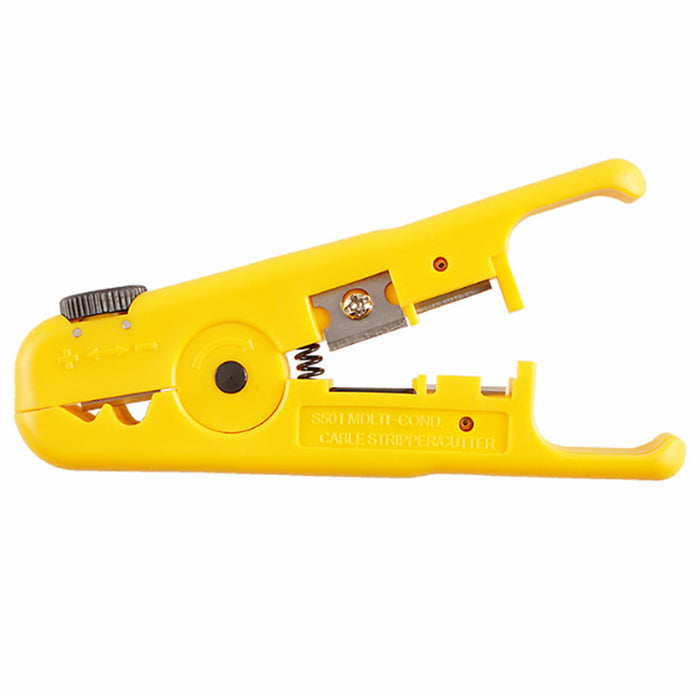 Yankok S501B Cable and Wire Stripping Cutting Tool with Adjustable Blade Depth Yellow
Liquid error (snippets/product-badge line 32): Computation results in '-Infinity'

%を保存
✅One hand operation strips and cuts UTP, FTP, STP, CAT5/5e CAT6 CAT6a Ethernet, RG59 RG6 RG7 RG11 Coax Cables, Date, Telephone Round and Flat Wires. Ergonomic design and spring loaded, the light weight, easy to operate cable stripper is a low cost option and the small size fits in any pocket, pouch or tool chest.
✅Cable wire stripping tool (Prep Tool), and cutter gives users an easy and cost-effective way to cut and strip wire and coaxial cables, category cables (phone/network), or prep ends for installing compression connectors.
✅Perfect for stripping cable jackets with different insulation thickness, the adjustable stripping blade works with UTP, STP, Ethernet and speaker round and flat cables, also reversing the cassette allows for SPT-1/SPT-2 wiring stripping.
✅Cable stripping tool is constructed from sturdy, yet lightweight yellow plastic and features a safe (accident free) center blade to cut through any cable depth. A spring-loaded cable cutter with an adjustable stripping blade for versatility.
🎁Package includes 1x S501B Universal Wire Stripper Cutter with 1x Replace Blade Set. Built in Cable Cutter and thumb screw adjustable blade. This handy cable / wire stripping and cutting tool is a great addition to any cable installer tool belt.
MPN:
YKNT-CST-S501B-YW

ASIN:
B0B3R6198C

What's in the Package?
1x S501B Universal Wire Stripper Cutter
1x Replace Blade Set

About Shipping:
Item will be shipped from China warehouse by International Shipping 8-15 days of delivery in normal conditions. Shipping time and date varies on the distance of different countries, extra shipping fee might be charged for remote area and sometimes the shipping time will be 10-20 days of delivery.

Retail Bulk Discount:
MOQ of 2 get 3.00% off $10.66
MOQ of 3 get 5.00% off $10.44
MOQ of 4 get 7.00% off $10.22
MOQ of 5 get 10.00% off $9.89
Contact us for price change when you place order for 2 and more.

Wholesale Volume Pricing:
We accept business orders as well, contact us for FOB pricing and shipping details if you have MOQ more than 5 pcs.

Available for the Following Cables:
UTP, FTP, STP Round Flat Wires.
CAT5/e, CAT6/6a Ethernet Cables.
RG59 RG6 RG7 RG11 Coax Cables.
Stranded phone wire 2P, 4P, 6P, 8P and 10P.
Intercom/Alarm wire with 2-Cond. Speaker wire 18-22AWG and SPT-1 electric wires.
Tough insulation 12-14-16 AWG cable, SPT-2 electric wires.
Assorted solid modular cables, UTP/STP, data communication wire and network cables.
Multi-conductor cables such as insulation OD 3.2 to 9.5mm (1/8 to 3/8in.).
Automotive and heavy-duty wires max. 8 AWG.

Features:
Flat wire stripping – by inserting cable between the stripper blade and squeeze handles. Cable must be keep perpendicular and then pull from the tool.
Round cable stripping – by rotating 1-3 times at counter clockwise and then open the jaw and remove the outer jacket.
Adjusting bolt control for different cable size.

Specifications:
Spring Loaded Cable Cutter Function.
Adjustable Stripping Blade.
Replaceable Stripping Blade.
Compact Design.
High Impact Plastic Housing.
Sleek Yellow Design.

About Yankok®:
Yankok® offers a comprehensive line of VDV products created to prep, connect, and test network, phone, CATV, home theater, satellite, and security cables for residential or commercial systems.
Yankok has manufactured premium-quality, professional-grade tools & equiments that deliver the performance, durability and precision needed to get the job done right.

Our item on Amazon.com:
www.amazon.com/dp/B0B3R6198C