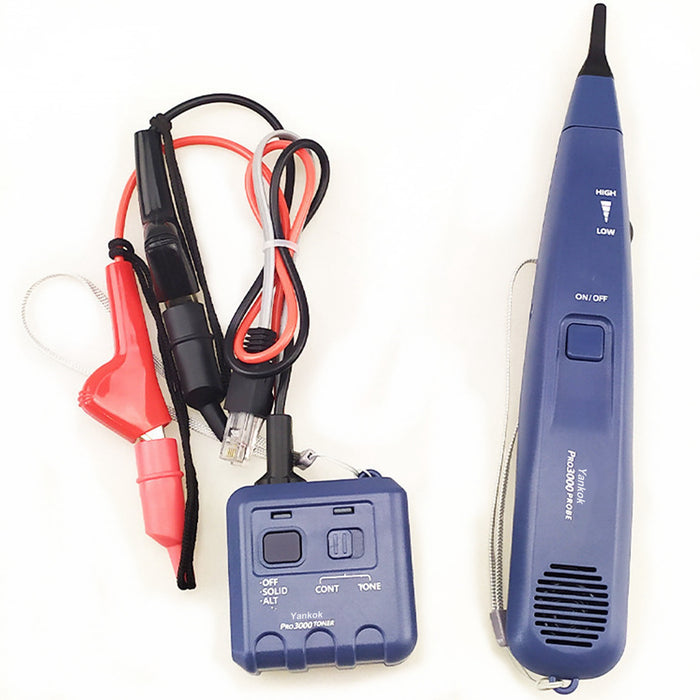 Yankok Pro3000 Analog Tone Generator and Probe Kit with 3.5mm Jack Filter Out Unwanted Noise (Come with Basic Headphones)
Liquid error (snippets/product-badge line 32): Computation results in '-Infinity'

%を保存
✅The big draw for the Yankok Tone and Probe Kit is its ability to filter. For the communication installations, it functions beautifully. Whether it's because your hearing isn't what it used to be, you work around challenging cable bundles, or you're just trying to make the job easier, this kit is highly recommended for cable and wire identification.
✅With a traditional tone and probe set, any live wires send a signal that the probe can pick up. While the toner sends a clearly different signal from all that, the additional noise can make it difficult to identify which wire actually has the tone in it.
✅This kit filters out the extra noise to make it easier to identify or trace your line amongst others. Here in the US, you will usually on a 60Hz system, so this kit is set to filter out that frequency.
✅When you turn the probe on, a green light lets you know that the filter is also on. If you don't want to use, press the button and it turns red to let you know it's off. It's that simple. Pro Tip: The LED doesn't light up and the volume decreased when your battery is close to dead.
🎁What's in this package? This kit come with 1x Tone and Probe Kit, 1x User Manual, 1x Nylon Carry Case and 1x Basic 3.5mm Jack Headphones. Powered by one 9V battery (which in not included). When you don't want or need to use headphones, the built-in speaker is plenty loud enough for general identification.
Before You Buy:
Tone and probe systems are incredibly useful for identifying and tracing cables and wire. They've been around for a long time and the principles are pretty simple. So simple, in fact, that almost anything with an electrical field sends a signal to your probe. That's where the Yankok Tone and Probe Kit comes in.

MPN:
YNKT-TPG-P3000

ASIN:
B09M49B3JR

What's in the Package?
1x Tone and Probe Kit
1x User Manual
1x Nylon Carry Case
1x Basic 3.5mm Jack Headphones

About Shipping:
United States: Item will be shipped from US warehouse by Standard Shipping with 5-7 days. If the item out of stock from the US, item will be shipped from China and we will send you a confirm notification before send out the parcel.
Other Countries: Item will be shipped from China warehouse by International Shipping with 8-15 days of delivery in normal conditions. Shipping time and date varies on the distance of different countries, extra shipping fee might be charged for remote area and sometimes the time will be 10-20 days of delivery.

Retail Bulk Discount:
MOQ of 2 get 3.00% off $67.89
MOQ of 3 get 5.00% off $66.49
MOQ of 4 get 7.00% off $65.09
MOQ of 5 get 10.00% off $62.99
NOTE: Get 10% OFF for your first order with code YANKOK10

Business Volume Pricing:
We accept wholesale orders as well, contact us for FOB pricing and shipping details if you have MOQ more than 5 set.

Specifications:
Model: Pro3000 Analog Toner
User interface: Slide switch selects Continuity or Tone Mode Push button switch selects SOLID, ALT or OFF Tone mode LED Continuity/Polarity LED
Solid Frequency: 1000 Hz nominal
Alternating Frequency: 1000/1500 Hz nominal
Over Voltage Protection: 60 Vdc in Toner/Polarity Mode
Output Power in Tone Mode: 8 dbm into 600 ohms
Output Voltage Level in Continuity Mode: 8 Vdc with fresh battery
Battery: 9V alkaline (NOT Included)
Temperature Operating: -20° C to 60° C, Storage: -40° C to 70° C
Case dimensions: 2.7 in. x 2.4 in. x 1.4 in. (6.9 cm x 6.1 cm x 3.6 cm)
Model: Pro3000 Analog Probe
User interface: ON/OFF push button Volume dial Replaceable tip 3.5 mm earphone jack
Battery: 9V alkaline (NOT Included)
Temperature Operating: -20° C to 60° C, Storage: -40° C to 70° C
Case dimensions: 9.8 in. x 1.6 in. x 1.3 in. (24.9 cm x 4.1 cm x 3.3 cm)

Features:
Filters out 60 Hz interference.
Turn the filter on or off with the press of a button.
3.5 mm jack allows you to use headphones.
LEDs on the toner match what setting you're in (off, continuous, alternating).
Spare probe tip in the battery compartment.

About Yankok®:
Yankok® offers a comprehensive line of VDV products created to prep, connect, and test network, phone, CATV, home theater, satellite, and security cables for residential or commercial systems.
Yankok® has manufactured premium-quality, professional-grade hand tools that deliver the performance, durability and precision needed to get the job done right.
We only use the high quality materials, superior workmanship, and keeping manufacturing as close to home as we can and make great products that stand up to the demands of the professionals who use them every day.

Our item on Amazon.com:
www.amazon.com/dp/B09M49B3JR