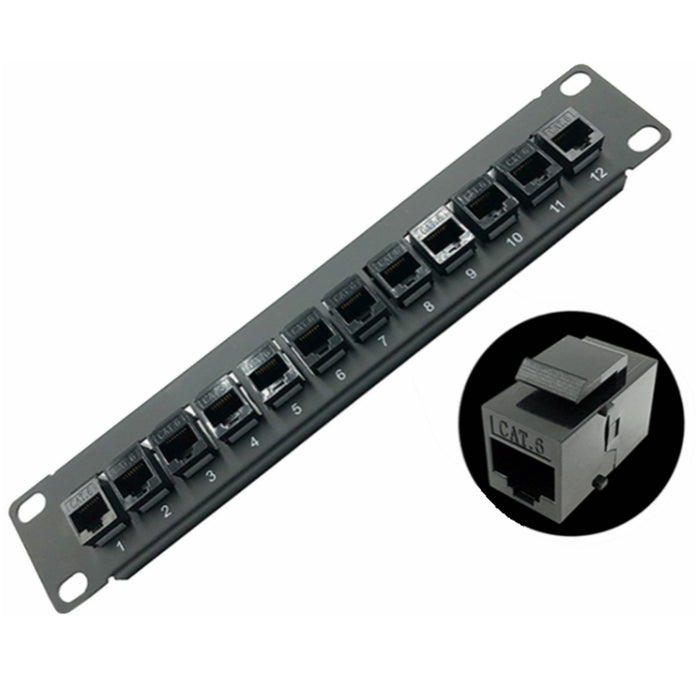 Yankok CAT6 12 Port Feed Through Patch Panel 10in. 1U Rack Mount
Liquid error (snippets/product-badge line 32): Computation results in '-Infinity'

%を保存
✅Feed Through Patch Panel - Category 6 feed-through patch panels are designed for quick field installation and to save end-users punch downtime. The 12-port pass through patch panel couples ports consisting of RJ-45-to-RJ-45 connection on both sides, which allows quick patch cords connection without the need for punch down UTP wires on the patch panels.
✅Cat6 Gigabit Ethernet - Provides patching without punching down bulk wire to the back of the panel. Fully meets or exceeds Cat6 specifications - works with USOC, T568A, and T568B wiring. 10in.x1U width mounts easily in Relay Rack or a Wall-Mount Hinged Rack. Professional structured cabling solution in a home or small office network.
✅Multi-Channel Application - Pre-install 12 inline couplers for a plug & play with standard RJ45 patch cables for connecting a LAN, video and audio streaming, IP camera surveillance and more; Installing feedthrough patch panel needs to insert an Ethernet cable at one side and another Ethernet cable goes from another side. It can save you time without punching down procedures especially when you have to change cabling constantly.
✅Heavy Duty Construction - Built with a black-painted steel panel and gold-plated RJ45 contacts ensure a correction free connection. Numbered ports on the front side are numbered for easy identification and installation. The keystone coupler of feedthrough patch panel can be removed. Users can match the blank panel and the couplers as they like.
🎁What's in the Package? – Package includes 1x 12-Port Cat6 Feed Through Patch Panel and 1x Mini Cable Stripper Cutter. UL listed and feature easy pass-thru connection, will maximize your network performance and keep up with the greatest of upgrade in your network.
MPN:
YKNT-FTP12-CAT6

ASIN:
B0C593LHLV

What's in the Package?
1x 12-Port Cat6 Feed Through Patch Panel
1x Mini Cable Stripper Cutter

Specifications:
Port: 12 ports Cat.6
Height: 1U=44.5mm / 1.75in.
Length: 10 inch=255mm / 10.04in.
Straight-through without punching down.
Supports back Cat.5/5e

Features:
Feed-Through patch panel provides patching without punching down bulk wire to the back of the panel.
Fully meets or exceeds Cat6 specifications - works with USOC, T568A, and T568B wiring.
10" width mounts easily in Relay Rack, or a Wall-Mount Hinged Rack.
Ethernet patch cables can be inserted into the ports directly in an easy and fast way.
The keystone coupler of feedthrough patch panel can be removed.
Users can match the blank panel and the couplers as they like.
Provides feedthrough patch panels that cost less than regular patch panels.

About Shipping:
United States: Item will be shipped from local warehouse by Standard Shipping with 5-7 days. If the item out of stock from the local, order will be shipped from China and we will send you a confirm notification before send out the parcel.
International Order: Item will be shipped from China warehouse by International Shipping with 8-15 days of delivery in normal conditions. Shipping time and date varies on the distance of different countries, extra shipping fee might be charged for remote area and sometimes the time will be 10-20 days of delivery.

Retail Bulk Discount:
MOQ of 2 get 3.00% off $19.39
MOQ of 3 get 5.00% off $18.99
MOQ of 4 get 7.00% off $18.59
MOQ of 5 get 10.00% off $17.99

Wholesale Volume Pricing:
We accept business orders as well, contact us for FOB pricing and shipping details if you have MOQ more than 5 pcs.

About Yankok®:
Yankok® offers a comprehensive line of VDV products created to prep, connect, and test network, phone, CATV, home theater, satellite, and security cables for residential or commercial systems.
Yankok® has manufactured premium-quality, professional-grade hand tools that deliver the performance, durability and precision needed to get the job done right.
We only use the high quality materials, superior workmanship, and keeping manufacturing as close to home as we can and make great products that stand up to the demands of the professionals who use them every day.

Our item on Amazon.com:
www.amazon.com/dp/B0C593LHLV