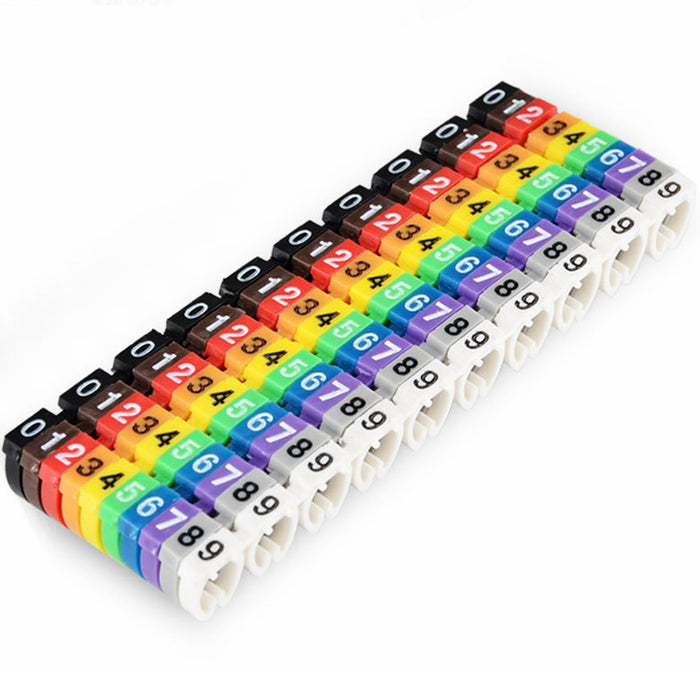 Yankok 2.5mm² Clip-On Cable Marker PCS100, Size 2.5mm² for 3.0-4.0mm Cables
Liquid error (snippets/product-badge line 32): Computation results in '-Infinity'

%を保存
✅Fast and easy to use pre-printed nylon snap-on marker. Ideal where termination is completed or for maintenance and repair.
✅Markers lock together to give perfect text alignment, with vibration resistant markers, the markers lock onto wire and cable tightly.
✅Gripping system locks markers onto wire and resists rotation. Popular digit markings from 1 to 9 are color coded.
✅The range of pre-printed cable markers easily snap onto cables and wires, ensure an easy application of the markers. Just simply insert the markers into the tool, slide down and press the markers onto the wire while twisting.
🎁Package includes 100 Pcs (10x10) 2.5mm² Clip-On Cable Markers. All markers come with a locking mechanism to ensure perfect text alignment. The markers are ideal cable management accessories for marking cables of the diameters 3.0-4.0mm Cables.
MPN:
YKNT-CCM-2.5MM

ASIN:
B0CKZ83QCM

What's in the Package?
100 Pcs Clip-On Cable Marker (2.5mm²)

About Shipping:
Item will be shipped from China warehouse by International Shipping 8-15 days of delivery in normal conditions. Shipping time and date varies on the distance of different countries, extra shipping fee might be charged for remote area and sometimes the shipping time will be 10-20 days of delivery.

Retail Bulk Discount:
MOQ of 2 get 3.00% off $7.36
MOQ of 3 get 5.00% off $7.21
MOQ of 4 get 7.00% off $7.06
MOQ of 5 get 10.00% off $6.83
Contact us for price change when you place order for 2 and more.

Wholesale Volume Pricing:
We accept business orders as well, contact us for FOB pricing and shipping details if you have MOQ more than 5 pcs.

Applications:
0.75~1.5mm² applicable diameter: 2.0-3.2mm. 15 pcs per strip with 10 strips, numbers 0~9, 150 pcs in total.
2.5mm² applicable diameter: 3.0-4.0mm. 10 pcs per strip with 10 strips, numbers 0~9, 100 pcs in total.
4mm² suitable for wire diameter: 4.0-5.5mm. 10 pcs per strip with 10 strips, numbers 0~9, 100 pcs in total.
6mm² suitable for wire diameter: 6.0-7.0mm. 10 pcs per strip with 10 strips, numbers 0~9, 100 pcs in total.

Specifications:
Quantity: 100 (10 per strip, 10 in total)
Printable: No
Material: Nylon 66
Affixing Method: Clip On
Available legends: 0-9 inch.
To suit cables: ø 3.0-4.0mm, 2.5mm².
Color: Black, Brown, Green, Grey, Orange, Red, Violet, White, Yellow
Standards Met: RoHS Compliant, UL, UL 94 V-2

Features:
Fast, snap-on installation.
Open marker sleeve for post-termination marking.
Designed to interlock when fitted, enabling easy alignment of multiple character markings.
High environmental tolerance and excellent legibility.

About Yankok®:
Yankok offers a comprehensive line of VDV products created to prep, connect, and test network, phone, CATV, home theater, satellite, and security cables for residential or commercial systems.
Yankok has manufactured premium-quality, professional-grade tools & equiments that deliver the performance, durability and precision needed to get the job done right.
We only use the high-quality materials, superior workmanship, and keeping manufacturing as close to home as we can and make great products that stand up to the demands of the professionals who use them every day.

Our item on Amazon.com:
www.amazon.com/dp/B0CKZ83QCM