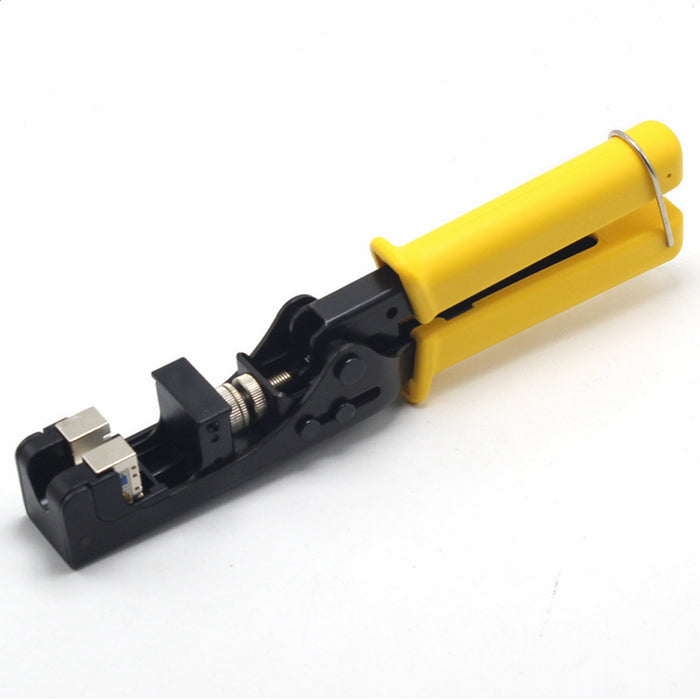 Yankok 180 Degree Keystone Jack Punch Down Tool (Fit Short Body with Plat Pin Jacks Only) 5098AY Yellow
Liquid error (snippets/product-badge line 32): Computation results in '-Infinity'

%を保存
✅Works for 180 degree SHORT BODY KEYSTONE JACKS with FLAT PINS ONLY includes CAT5, CAT6 and CAT6a (Shielded) UTP jacks. Simply seat all 8 wires into the 180-degree punch down type keystone jack then put the jack into the tool.
✅One-handed operation allows you to punch down and trim all 4 pairs of your Ethernet cable into a 180 Degree keystone jack with just one crimp. It will save you time and money by easily punch down all wires at the same time with a quick squeeze of the tool.
✅Ergonomically designed handle, easy to use, seats and cuts all wires at the same time while reduces hand fatigue. This tool will even cut off the excess wire, leaving you with a perfect keystone jack every time.
✅Increases termination speed and accuracy massively. Keep your RJ45 Keystone Jack neat and clean while wiring your Network Cable. Reduces the possibility of damaging your keystone jack or Ethernet cable.
🎁What's in the package – Package includes 1x 180 Degree Keystone Jack Punch Down Tool with 1x Mini Cable Stripper Cutter. Speed up your network installation and reduce hand fatigue.
MPN:
YKNT-PDT-5098AY

ASIN:
B09VGN1C1C

What's in the Package?
1x 180 Degree Keystone Jack Punch Down Tool
1x Mini Cable Stripper Cutter

NOTE:
Specific fit for 180 degree SHORT BODY KEYSTONE JACKS with FLAT PINS ONLY includes CAT5, CAT6 and CAT6a (Shielded) UTP jacks (check item pictures).

About Shipping:
US Buyers: Item will be shipped from US warehouse by Standard Shipping 5-7 days when in stock. Item will be shipped from China warehouse when out of stock and we will send you a confirm notification before send out the parcel.
Global Buyers: Item will be shipped from China warehouse by International Shipping 8-15 days of delivery in normal conditions. Shipping time and date varies on the distance of different countries, extra shipping fee might be charged for remote area and sometimes the shipping time will be 10-20 days of delivery.

Retail Bulk Discount:
MOQ of 2 get 3.00% off $48.49
MOQ of 3 get 5.00% off $47.49
MOQ of 4 get 7.00% off $46.49
MOQ of 5 get 10.00% off $44.99
Contact us for price change when you place order for 2 and more.

Wholesale Volume Pricing:
We accept business orders as well, contact us for FOB pricing and shipping details if you have MOQ more than 5 pcs.

Features:
Works for Short Body with Plat Pin Jacks Only.
Has a carbon steel body with alloyed steel cutting head.
Keystone socket – PC+10%GF.
Punches down and trims all 4 pairs at the same time.
Reduces punch down and cut time by half.
Has retaining ring to keep the crimper closed when is not been used.
One-handed operation, with an ergonomically designed handle, reduces hand fatigue.
Easy to use handle, seats and cuts all wires at once.
Works with Punch Down 180 Degree UTP Keystone Jack.
Increases termination speed and accuracy massively.
Reduces the possibility of damaging your keystone jack or Ethernet cable.

About Yankok®:
Yankok® offers a comprehensive line of VDV products created to prep, connect, and test network, phone, CATV, home theater, satellite, and security cables for residential or commercial systems.
Yankok® has manufactured premium-quality, professional-grade hand tools that deliver the performance, durability and precision needed to get the job done right.
We only use the high quality materials, superior workmanship, and keeping manufacturing as close to home as we can and make great products that stand up to the demands of the professionals who use them every day.

Our item on Amazon.com:
www.amazon.com/dp/B09VGN1C1C